Salesforce.com Consulting
Whether you're new to Salesforce.com or you've been using it for years, Granite Point Consulting can take your use of Salesforce.com to the next level to maximize your Salesforce investment.
New Salesforce Implementations
OK, you chose Salesforce. Now what?
There are many consulting companies who do "jump-start" projects for new Salesforce.com customers. But they are eager to be "dun" and move on to the next project, some times before they are done with yours.
At Granite Point Consulting, we know that understanding your company's business process and culture are essential to setting up Salesforce.com correctly from the start and critical to the long-term success of your implementation. We take the time to learn the full lay of the land and architect the short-term and long-term road map so that you don't need to hire another consulting company to clean up the mess created by the first one! Yes, we do that too.
Your company is as unique as a snowflake.
But just like every other company, you want to sell more in less time.
Salesforce.com can help you do that, but only if it is set-up properly for your business. Your sales team needs it to be simple and they need to believe Salesforce.com helps them sell more.
Your Salesforce.com configuration needs to capture the key steps in your sales process. Then those metrics need to be reported back to the sales team to enforce good behavior and deliver accurate reports so management can make informed decisions based on data.
Granite Point Consulting has worked with many companies to transform their use of Salesforce and optimize their Sales process.
Business Process Review & System Architecture
No matter what area of the company you are in, we can transform your existing workflow to a streamlined Salesforce.com process. Do you have an Excel sheet that gets emailed around every month? Do you have some Access database that was built when George W. Bush was president? Or, gulp, do certain departments just email each other fifty times to get everyday tasks done?
The power of Salesforce.com, and why you pay for it, is that it can be customized so easily and completely. But first you need to understand what the business process is now, what you want it to be in the future, and how we can design and build it into Salesforce.com. Whether its a week long inter-department analysis, or an hour whiteboard session, we'll outline take your ultimate workflow and get it into Salesforce.com.
The end result will be an efficient, cloud-based, mobile-friendly and 100% reportable process that will make everyone's life easier.
Salesforce.com System Audit
You have been using Salesforce.com for 8 years. You've had 4 or 5 system administrators. You've had 3 or 4 VP's of Sales and VP's of Marketing, who each thought they had the magic formula to Sales success. What's left in the system? A big mess. There is extra data that is pushing you over your storage limit. There are the 6 account page layouts and record types no one understands. There is custom code, custom objects and workflows that do nothing. There are fields everywhere, and you don't know where to begin. What you need is a Salesforce.com Audit.
We will go into your Salesforce org and go through what is being used and what is not. We will outline what makes sense and what doesn't make sense. We'll present it to you, and with your sign-off we'll turn your Spaghetti Salesforce.com into a streamlined system that will have your users thanking you over and over.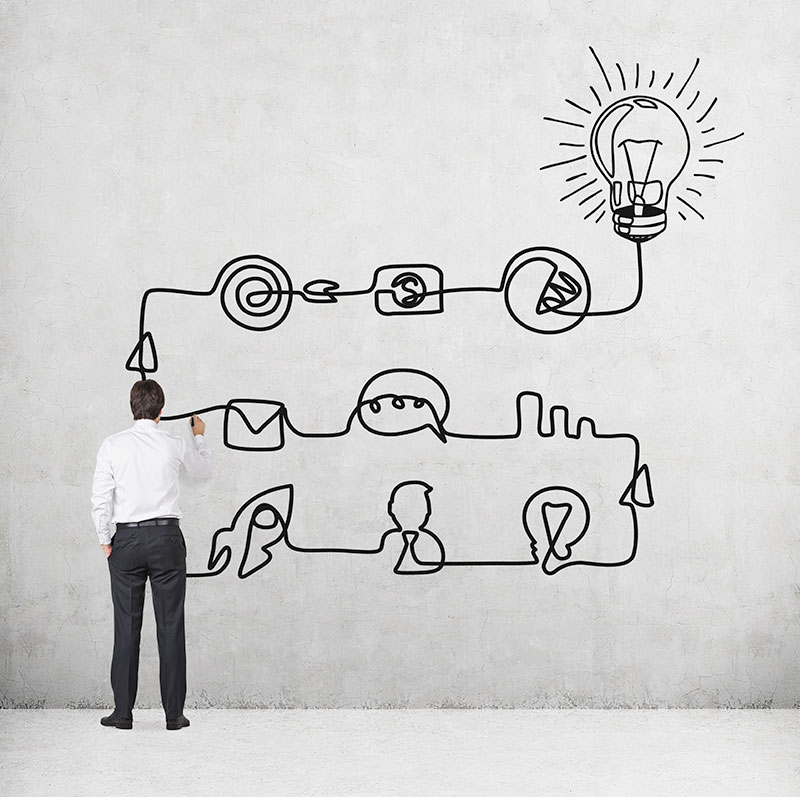 Process Builders and Flows
These features came out a few years ago and they have dramatically changed what you can do with Salesforce.com without Apex Code. We are constantly surprised at how many companies don't utilize this functionality. Enhancements that used to be 20 hours of programming can now be accomplished in a fraction of the hours and maintained by your system administrators.
With Flows, companies can build custom "wizards" that walk users through a particular process. Just like a choose your own adventure book, user inputs drive the next page displayed and the subsequent actions. We'll take that ultimate business workflow from a Visio, whiteboard or pad of paper and turn it into a Salesforce.com reality using a Flow.
Apex Code Writing
Sometimes Apex code is needed, whether it is for a batch job to deal with thousands of records or for an integration with another system using Salesforce's API. Or it could be in those quirky situations when Salesforce.com does its best old-time New England accent and says, "You can't get there from here." If the job calls for code, we have an expert developer who can help write clean, efficient Apex Code and the test classes needed to deploy.
Apex Code Clean-up
Speaking of test classes, too often they are out of date due to basic system changes, such as adding or changing validation rules.  Most companies do not have a programmer on staff to keep the Apex Test Classes current. We can help update your classes to get you to the 75% code coverage required to deploy other code and deploy change sets from sandboxes. If you can't deploy from a sandbox because of code coverage, you're playing with fire and we always recommend to be proactive on this.
As part of the audit, we will determine what code to is actively used, what is not working well (too many SOQL calls!) and what can be eliminated if possible.
In the end you'll have a cleaner and easier to maintain system. Instead of chugging along like an AMC Gremlin, your Salesforce.com will purr like a Ferrari