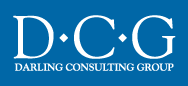 Saving Salesforce.com
Darling Consulting Group
Newburyport, Massachusetts
When Kevin Williams took over the Sales group at Darling Consulting Group, he was not sure what he had in Salesforce.com.
"We were emailing around a spreadsheet with our pipeline every day," he recalled.
When Doug from Granite Point Consulting came in to meet with the team, there were a lot of opinions as to how the system should be used.
"I think we had 15 different opinions in the room that day," Kevin laughed.
After sorting through all the needs of the management, sales and marketing departments, Granite Point Consulting outlined recommendations for a revised Sales process in Salesforce.com. To everyone's surprise, including Doug's, it did not include Leads.
"We spent so much time trying to figure out what was a lead and what wasn't a lead, that was the lightbulb that turned on above our heads that we needed." As a consulting group serving the needs of banks and credit unions, each one of those institutions is a potential customer. Eliminating the use of leads simplified the system, and got DCG on the path of designing Salesforce to use for all their sales activity.
Within a few weeks the system was refined, the spreadsheets were retired and the dashboard and pipeline reports started flowing out of the system.
"Sales is not rocket science, but getting everyone on the same page and translating that into a fully functional system is not always easy. Hiring Granite Point Consulting to guide us through the process was a great decision."